Happy Sunday Friends! Did you have a good Halloween? We sure did, the boys went trick or treating COVID style as most neighbors laid out candy and treat bags on tables in their driveways. Our street has a couple of driveway parties, one has a scary clown theme and the other is a beer garden. It's so much fun!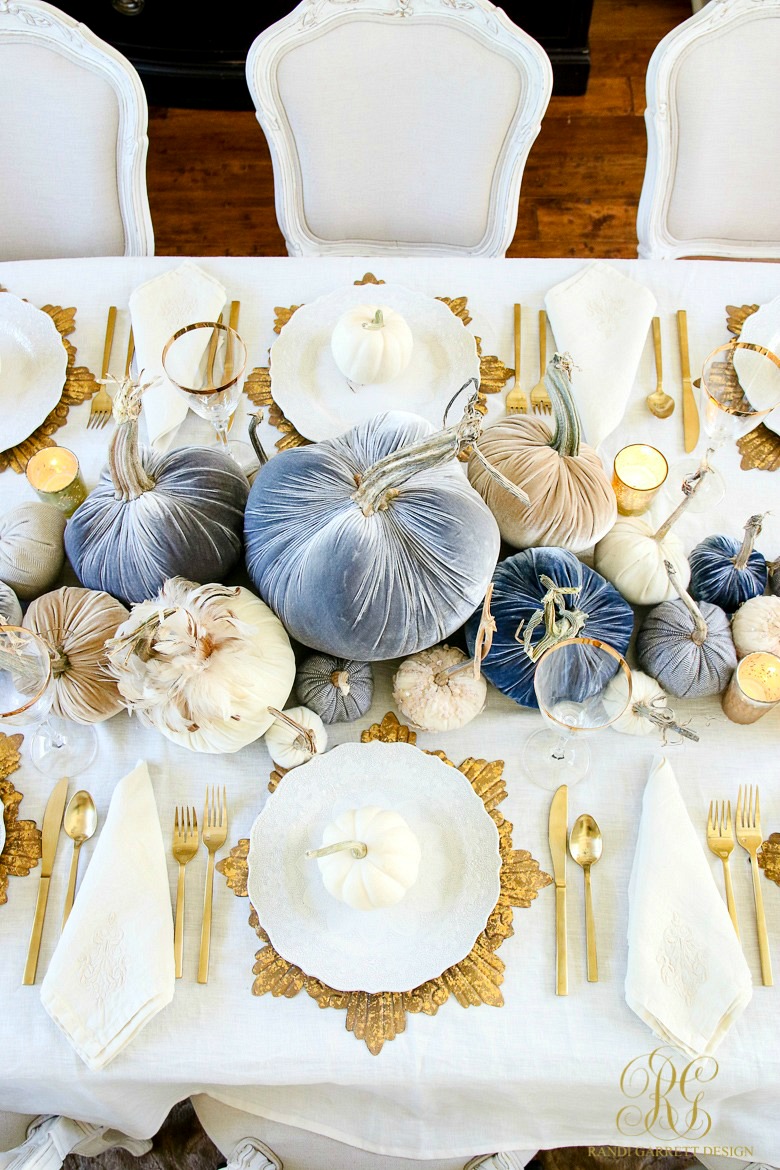 Since we are officially in November, I thought it would be fun to set my table for Thanksgiving. I was inspired to make my own velvet pumpkins after seeing Randi Garret'ts Tablescape. Mine are far from perfect, and the stems are not real, but my total cost was about $35 and I have leftover fabric.
I purchased fake pumpkins from Dollar Tree and Walmart and pulled off the stems, but this would be a good time to dry out your real pumpkin stems now that Halloween is over. For a more glam look, add some rub and buff to the stems. There are lots of tutorials on how to make velvet pumpkins. My top tips would be to use fishing line instead of thread and I used stuffing from worn-out pillows rather than buying stuffing.
How to Create a Centerpiece or Tablescape in 10 Steps
Step 2. Place candle hurricanes next to the place settings at the heads of the table.

Step 3. Weave garland around hurricanes in an infinity symbol or snake down the middle.

Step 4. Place largest object, in this case the biggest pumpkin in the middle.

Step 5. Add next largest pumpkins.

Step 6. Sprinkle in small pumpkins.

Step 7. Fill any gaps with extra foliage stems.

Step 8. Weave in antler pics or other large wreath picks.

Step 9. Put roses or other flowers in water picks and group in clusters throughout the centerpiece.

Step 10. Finish setting the table by layering chargers, dinner plates, and napkins with rings.
I started with a white and gold table runner and my HomeGoods candle hurricanes. Then I added this lambs ear Christmas garland from Walmart. This garland is SO good and it can be used any time of year.
I went to Walmart this morning to see if there was any good Halloween decor left on clearance, but the shelved were mostly bare. Then I wandered into the Christmas aisles. Walmart is on point yet again with their Christmas decor. I found these gold glitter antler picks and thought that they would bring the perfect texture to my tablescape.
I also picked up a box of small gold glitter antler ornaments and used those instead of napkin rings.
To finish off the look, I took roses and forced them open. I put the stems into floral water picks and placed them evenly in three clusters throughout my centerpiece.
And just because this blog is also like my personal scrapbook, here's a couple of pictures from last night's festivities.
Have you taken down your Halloween decor yet? Are you ready for Thanksgiving?